Overview
The Firehalt Access Hatch comes pre-covered with the appropriate Firehalt barrier. The hatch door has a unique hinge design that allows maximum clearance when open whilst also ensuring the even and correct fitting when closed.
The flush fitting Access Hatch has been specifically developed to be incorporated into a certified Firehalt fire barrier system. The design provides convenient access through the barrier followed afterwards by a secure method of closure .
The unique cranked hinges allow the door swing out fully for maximum access but also to act as levers to ensure the door re-positions itself evenly within the outer frame. The hatch door is supplied with a fire barrier cover already installed.
Installation instructions available on request.
Features
provides 1200mm x 600mm access
Solid construction and heavy duty hinge provides unobstructed access through the barrier
Secure closure to maintain integrity of Fire Barrier
Illustrated installation instructions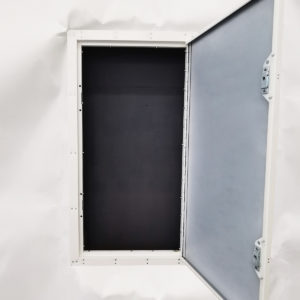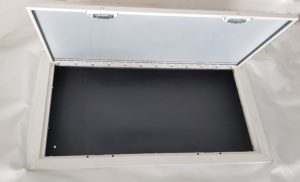 Want to know more?
If you're looking for further information, please get in touch – we'd be happy to discuss your project's requirements in detail.
Firehalt 'putting safety first'