Putting safety first
Firehalt passive fire protection products
About Firehalt
At Culimeta-Saveguard, we understand our responsibility to deliver passive fire protection products that guarantee safety, integrity and reliability.
Our expertise as one of the world's leading high-performance textile companies allows us to work collaboratively with our partners to ensure absolute confidence in the performance, quality, and validation of our Firehalt products.
While developing our high performance passive fire protection solutions, we actively promote best practice – from the design, manufacture and distribution of our products, right through to installation, by:
co-ordinating with our third party accreditation providers
offering expert technical support to our distributors and their customers in the field.
Engineered into the very fabric of buildings, Firehalt products work independently, or alongside, active fire protection systems, such as sprinklers.
Firehalt's unique fire protection properties work to help maintain a structure's integrity long enough to allow personnel to be evacuated safely and time for fire-fighting measures to be as effective as possible.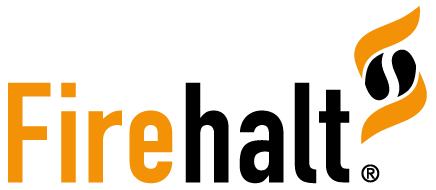 Our Promise
To ensure Firehalt remains a leader in the passive fire protection market and that we can provide service support that's second-to-none, we continually invest in:
advancing our products
training our people
materials' innovation
expanding and upgrading our production facilities.
Our History
The first two Firehalt fire barriers were developed 20 years ago using our own calibrated test furnace.
Following exhaustive testing and the required certification, Firehalt Gold and Firehalt SF were launched in the late 1990s.
Our commitment to on-going product development has resulted in the comprehensive range of Firehalt products available today.
Global Reach
Our products are available across Europe, the US, Australia/NZ and South America through our own company network or our authorised independent distributors.
Want to know more?
If you're looking for further information, please get in touch – we'd be happy to discuss your project's requirements in detail.
Firehalt 'putting safety first'